Every Monday, our featured designer will pose a challenge to you, our readers! If you choose to accept the challenge, you can send us an image of the completed challenge to ideas@scrapbookandcards.com. We'd love to see your work!
Our featured designer of the week is Kimber McGray from Carmel, IN.
Kimber's challenge: scraplift any layout from any past issue of Scrapbook & Cards Today and send us an image of the finished product!
What Kimber did: Kimber chose to scraplift Angela Urbano's "Monkey Boy" layout featured on page 18 of the spring '08 issue. Her lifted layout is called "Pre-K Art" and features fun octopus artwork by her son Andrew. Kimber chose to scraplift this layout because she loves the colour orange!
Pre-K Art
by Kimber McGray, Carmel, IN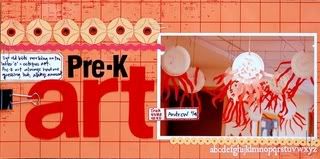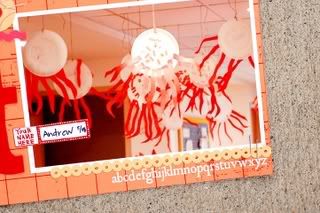 Supplies: cardstock, Worldwin; patterned paper, My Mind's Eye; transparency, Hambly Screen Prints; lettering, American Crafts, Heidi Swapp; rub-ons, Maya Road; sticker, Fontwerks; die-cuts, doodlebug; pen, American Crafts; other, staples
Here is how Kimber created her row of circle embellishments:
Supplies: Pattern Paper: My Mind's Eye Circle Punch: EK Success Hole punch/Eyelet setter: We R Memory Keepers Eyelets: We R Memory Keepers
1. Turn a 1" circle punch upside down so you can see what you are going to punch out. Repeat punching circles.
2. Move the slider on the Crop-A-Dile II (Big Bite) to the 3/16" hole punch mark.
3. Slide each punched circle under the hole punch. Squeeze handle to punch a hole where the little flower is on the pattern paper.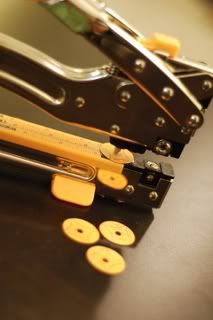 4. Move the slider on the Big Bite to the eyelet setter mark.
5. Place an eyelet in the hole of the pattern paper circle. Line it up under the eyelet setter. (If she can do this with her left hand AND take a photo, you can do this easily!)
6. Squeeze the handle gently to set the eyelet. Wah-laa! Your very own, custom embellishments.
Thanks Kimber!
Don't forget to check out the first post for your chance to win some of our fabulous prizes!!