This week, our guest designer is Kimber McGray from Carmel, IN. Here is Kimber's challenge:
Make a layout that incorporates your child(ren)'s art work.
It's Back-to-School time! My son started Kindergarten last week and I have already been inundated with his 'Art' projects. What on earth am I going to do with all of these??!!! I've decided to talk to him about them every day as they come out of his back pack to find out the stories behind his pictures. Some will end up on the refrigerator; some will hang on the walls of his room; others I want to scrapbook to keep forever. Today Andrew came home with this drawing that included our dog Truck who he doesn't usually include in his drawings. But, the picture was missing one thing; his sister! So when I asked him about it, he said that she had made him mad this morning and he didn't want her in his happy picture. Ha! "Alright then," I said, "it's your art, do what you wish."
Here is what I did: To scrapbook the large paper, I asked him to cut out the drawings and I adhered them to my page. Some other options for including your child(ren)'s art on a scrapbook page would be to either scan it in, take a photo of the art, or even take a photo of your child holding their masterpiece.
My tip:
I used a piece of grey cardstock, as well as some clips on this page to make it feel like the art was hanging on the refrigerator.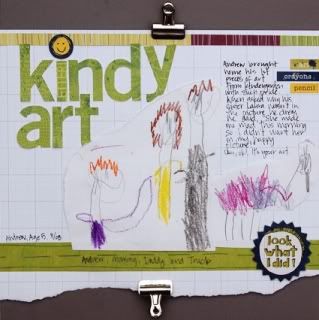 supplies: cardstock, Wordwin; patterned paper, Scenic Route, SEI; stickers, chipboard, and die-cuts, Scenic Route; clips, Office Supply; pen, Zig