Good Morning Friends.  How are you?  How was your Easter holiday?  Did anything exciting happen in April?
I was doing some reflecting on how busy my life has become these days, which has made me even more grateful that I stop and document my world with Project 12 each and every month.  Sometimes it's a chore and I'm putting together my layout at the last minute to make it in time for this post, but the fact I have made it a priority, on top of jazz and ballet and gardening and renovating and camping and barbecuing and volunteering and mothering, really does fill me with pride.  My scrapbooks are such a treasure to me, and nothing makes me happier than to see my girls flipping through the pages to see their lives mapped out with patterned paper lovingly cut into bits.
In April our house was busy with Spring Teas at school, an early camping trip to the hills, a new trampoline, and our annual Easter weekend bash.  I had a lot of fun things to document, and the April sketch was perfect for it.
As a reminder, here's the April sketch:
And this is what I came up with this month:
I used my current Studio Calico kit again this month.  If you have ever considered a monthly kit, I would definitely recommend researching the club that would work for your style.  It's really great to get a monthly kit delivered to my door, filled with various manufacturers, complete with alphabets, cardstock, and embellishments.  It certainly makes my monthly layout a breeze to put together.
This sketch was filled with horizontal photos, but as I went through my files, I realized I am more of a portrait girl, so had to alter the sketch a bit to get my photos in.  Note to self:  take more of both, so I'll always have choices.
As always, I wanted to highlight a couple of submissions this month, and first I wanted to start with Sonya:
I was really drawn to her color palette.  I wouldn't have normally been drawn to using the Crate floral background with that black houndstooth, but it looks FABulous on this layout.  I really really like the two together.  I also really like the use of the birds and butterflies for the embellishments on this one.  It really speaks Spring to me.  (I hope you have had Spring at your house, Sonya!!!!  It SNOWED last week here).  I also like the touches of red because it really draws that color out of the photos she used.  Really nice layout.
The next one I wanted to share is from Jennifer.  Jennifer and I go way back on this challenge and it's always an honor and a pleasure to see her playing along.
The first thing that made me smile on this layout was the banners.  SO cute.  The next thing that caught my eye were the mushrooms and other corrugated shapes.  You don't often get a chance to use mushrooms on a layout, but it works perfectly for this layout and this challenge!  I love the title card and how she changed the sketch to fit her photos too.  I like that number paper too.  I need some of that.
Lastly, is one from Ruby.
Project 12 is about celebrating your life and getting it down on a 12x12, (or two of them, or an 8.5 x 11, etc).  Sometimes that means documenting all the little things, and sometimes that means documenting the big things.  April is a month to celebrate Spring, but it is also a month to celebrate Easter, which is what Ruby did with her layout.  I love the color combo here.  It's so soft and feminine and I love all those pretty photo corners.  The dimensional butterflies and use of trims here is really nice too.
Thank you so much for playing along!
Now that June is here and May is over, it's about time for Spring before Summer gets here (at least at my house, the kids are chomping at the bit to utilize sprinklers under the trampoline).  It's also time for another challenge.
As a reminder, this is the May sketch we are going to be utilizing this month:
I really like this one.  I love those flowers.  I may have to dig in my stash to see if I can find some SEI Dill Blossom.  I loved that line!
Remember, though, that you can use whatever sketch works for you.  You don't even need to utilize a sketch if Becky's PageMap doesn't work with your photos.  Just document your life and leave a comment or email ideas@scrapbookandcards.com to have it added to the Facebook gallery if you want to be entered for a prize.
The May prize you are playing for is a one year subscription to Scrapbook & Cards Today AND a copy of CardMaps Today!  Just remember to link your May layouts to this post from May 1st!
And if you played in April, you were trying for the Blossom Soup Collection from Jillibean Soup.  Fun!  The winner of this beautiful collection from the Scrapbook & Cards Today blog is:
And the winner from my blog this month is Natalie (from vegetablog). 
Congratulations ladies!  Please send an email to ideas@scrapbookandcards.com and note that you are the winner of the Project12 challenge for the April sketch!
Looking ahead at future sketches, let's check out what's coming up for June:
(
This one should be really fun to play with.  4x4 photos are great to work with!
The prize for June will be the Ladybug Garden Collection from Doodlebug!  It is so sweet and perfect for those summer photos!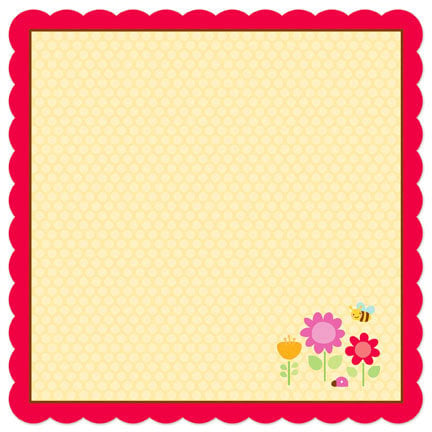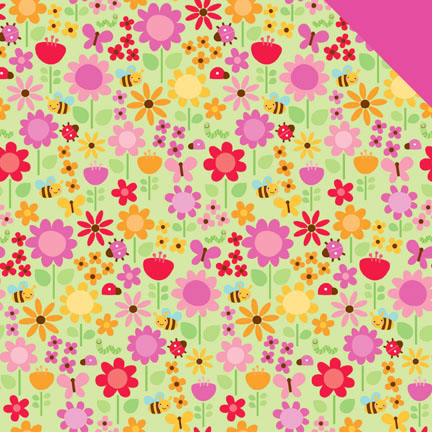 As always, you have until the 28th to leave a comment linking your layout to the appropriate blog post.  For the May sketch, you will want to leave a comment on the post that revealed the May sketch, which is here.
I'll see you back here July 1! 
~ Davinie
(Keep up with Davinie by visiting her blog at http://davinie.blogspot.com/)